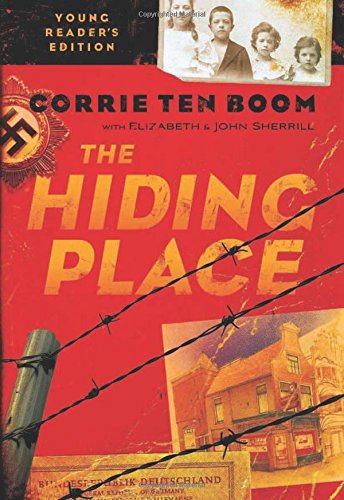 "But if God has shown us bad times ahead, it's enough for me that He knows about them. That's why He sometimes shows us things, you know—to tell us that this too is in His hands."
-Betsie from The Hiding Place
From Amazon: It's World War II. Darkness has fallen over Europe as the Nazis spread hatred, fear and war across the globe. But on a quiet city corner in the Netherlands, one woman fights against the darkness.
In her quiet watchmaking shop, she and her family risk their lives to hide Jews, and others hunted by the Nazis, in a secret room, a "hiding place" that they built in the old building.
One day, however, Corrie and her family are betrayed. They're captured and sent to the notorious Nazi concentration camp to die. Yet even in the darkest of places, Corrie still fights.
This is her story—and the story of how faith, hope and love ultimately triumphed over unthinkable evil.
The Hiding Place by Corrie Ten Boom is an amazing little book. Set in one of the darkest times and places in recent history, it shines with hope, wisdom and love. I thought it might be a hard to read because parts of this story, parts of Corrie's life, were unimaginably hard. Instead, I found that it was filled with reminder after reminder of God's presence in the midst of the unimaginable. Reading it was not a dark and despairing experience, but a hope-filled one. Even the saddest parts were filled with hope because of God's work in the lives of his servants.
I read the original version (which I would recommend for ages 13 and up). There is also a young readers version that is recommended for ages 9 and up. If you have a sensitive reader, you may want to read this together or wait for a time when you know they can handle it. Corrie and Betsie are placed in a concentration camp. People die in horrible ways. The book is not graphic, but it is honest. However, because this is such a hope-filled book, filled with forgiveness and God's grace, I think it would be a great choice to read together or separately and then discuss together. You know your child and what they can handle, but it feels appropriate to share a bit of wisdom from Corrie's own father when thinking through decisions like this:
"It would be a pretty poor father who would ask his little girl to carry such a load. It's the same way, Corrie, with knowledge. Some knowledge is too heavy for children. When you are older and stronger you can bear it. For now you must trust me to carry it for you"
Either way, once you start The Hiding Place, you will find yourself quickly drawn into Corrie's story. I am thankful for her honesty and her testimony that God can use the most unlikely of people to make a difference and display his glory in the midst of the most challenging of circumstances. This important story is definitely worth the read.
(PS All links to Amazon are affiliate links. If you like what you read here, using these links is a small way you can support the blog. Thank you!)